The Harvest Table
The Harvest Table
The Harvest Table is a family-run business based in KwaZulu-Natal, founded by Catherine Clark. After being diagnosed with Hodgkin's Lymphoma at 20 years old, Catherine began the search for high-quality and pure foods to incorporate into her diet. She discovered an incredible collagen product that has helped her health immensely "And so, what started as a journey of discovering the role that the foods that I eat played in my own health and that of my family, has become a business that seeks to make a nourishing life possible for others who ­find themselves on a similar journey." Modern-day lifestyles are often so busy that many of us tend to make repetitive food choices thereby missing nutrients that may be available to us if we chose a wider range of foods to consume. The Harvest Table makes this easier for you!
View Product Range
Ancient Wisdom
At the Harvest Table we believe that ancient wisdom can be used to guide the lifestyle choices that we make today and that returning to some of the ancient traditions can be exceptionally beneficial. Bone broth is an example of such an old and trusted superfood with an incredible nutritional depth.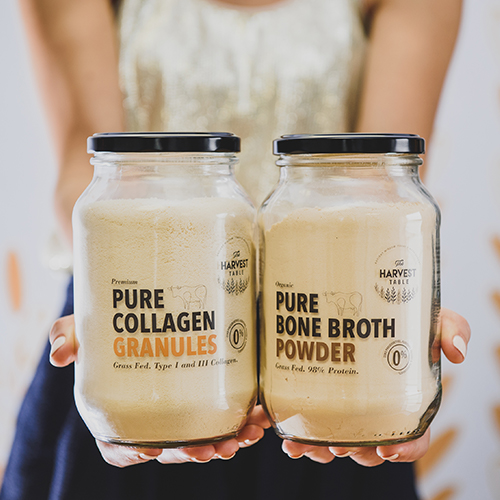 Wide Nutritional Spectrum
Whether you decide to replace a daily meal with our ancient shake, add one of our boosters to your shakes or smoothies, add bone broth to your soups or stews or collagen into your co‑ee, you can be assured every Harvest Table product you purchase is an investment into your health and well-being.
Nature's Building Blocks
Collagen is our bodies' most abundant protein. It's in muscles, bones, skin, blood vessels, digestive system and tendons. It gives our skin strength and elasticity. It's the "glue" that helps hold the body together. A supplementing with collagen counteracts our body's slowing production as we age.
Honest, Quality Products
Building a business based on integrity and with a greater purpose is a non-negotiable for us. Our vision is not to only create beautiful, pure products packaged earth consciously but to shift the lives of our customers positively by educating them and helping them to make better food choices daily.
The Harvest Table